"Eisenstein" (Written by Kazuo Yamada/Kinokuniya Shoten/1963, reprint edition: 1994)
Soviet montage theory did not emerge spontaneously.
In addition to Marx's materialist dialectics and socialist ideas, Eisenstein studied American cinema, European cinema, and Japanese kanji.

In his film ''Strike'', Eisenstein condensed many elements, including panoramic circus show-like depictions, graphic depictions of brutality, and documentary.

In "Potemkin", he practiced all the techniques of cinema. He also does "subjective action photography with a hand camera'' like Kinji Fukasaku, as well as guerrilla photography without permission.

Eisenstein hated his mother, who had abandoned him.
However, Eisenstein cast his mother in "Potemkin''.
Why he chose to have his mother appear in the film is a mystery.
However, the book says that even after that, Eisenstein never forgave his mother for abandoning him.

Furthermore, Eisenstein was enraged by Hitler's statement that he had seen "Potemkin'' and intended to use the montage for Nazi propaganda, and issued a statement of protest.

This book by Kazuo Yamada, who is also a member of the Japanese Communist Party, laments the prevalence of "montages that ignore socialist ideals'' around the world.
Eisenstein himself explained that "montage'' is not just a film technique, but is integral to Marx, dialectics, socialism, and social reform.

This book also describes Eisenstein's struggles as the Soviet Union was later transformed by the dictator Stalin, and the bureaucrats became sectarian and dogmatic, and he came into conflict with them.
Also,The book also includes information on a number of Eisenstein's unreleased film projects (such as "Бежин луг'').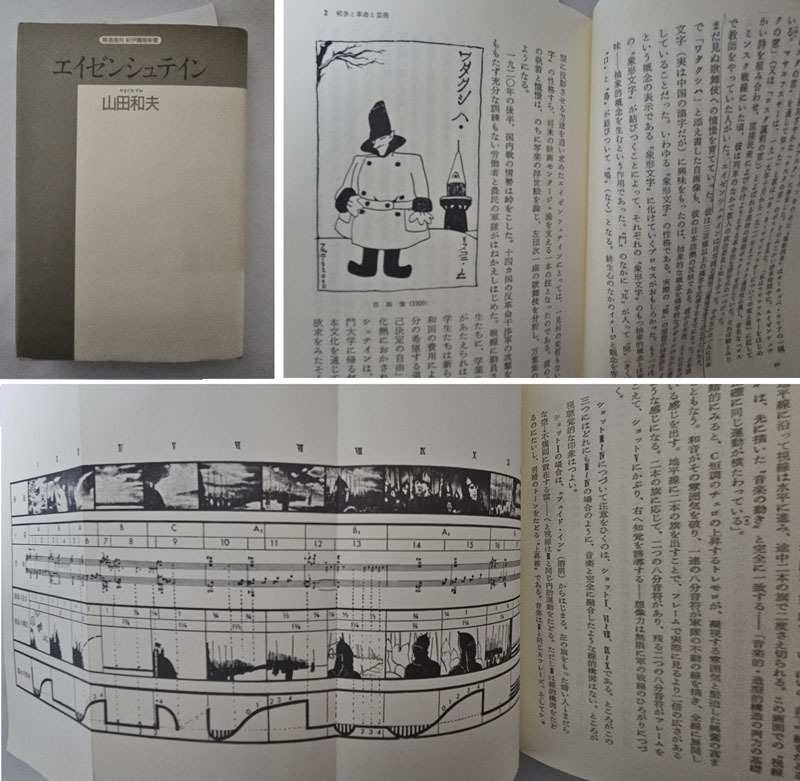 Above: Japanese written by Eisenstein and self-portrait
Bottom: Storyboard showing a montage closely related to the screen direction and the movement of the music.